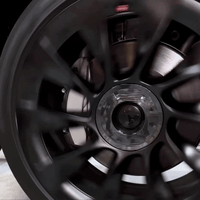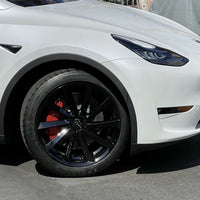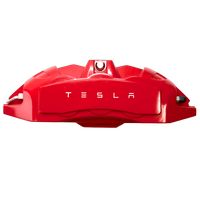 Model 3 Performance Caliper Covers (Gen. 3) - Variety*
List price:
$286.25
Sale

• Save
Installation difficulty: Moderate 2/5
Description
Pre-Order NOTICE: We are accepting preorders for the Model 3 Performance Caliper Covers (Gen. 3). Some colors are in stock and the others will ship before the middle of September.  If you can select the color you want we have it in stock now.
This is our newest Generation 3 Performance Caliper Covers.
Our new Gen. 3 performance Caliper Covers are contoured like real calipers and they just slide right on, over your stock calipers. If you are tired of looking at your small grey front caliper and the undersized horseshoe-shaped rear calipers, look at how nice these brighten up your wheels. See our before and after rear caliper photo.

The facade fronts or each cover include bolts, a hydraulic line, and a rubber bleeding cap. They look great and are even easier to install, just slide over and tighten one nut. Please watch our demo & installation video.  Aluminum Caliper Covers are very simple to install, not permanent, and have no warranty compromising risk.
Made specifically to fit over the Tesla Model 3 stock non-performance brake calipers, these Caliper Covers will give your Model Y a RED Caliper Painted look. These fit on 18", and 19" inch wheels and non-TESLA wheels as long as the calipers are non-performance.
Caliper Covers not only look awesome but they reduce brake dust accumulation in your wheels. These are made of lightweight 6061-T6 Aerospace Aluminum that covers the caliper for a perfect fit.
These caliper covers are a great lower cost non-permanent solution to covering up the plain silver calipers on your Model Y. If you're leasing, you can leave them on when your lease is over, or just unscrew one nut and remove them.  
Optional Vinyl Letters:  Want us to customize your calipers for you? We will do it at no charge. From our pull-down menu, you have to choose "None - Plain Red" or "White/Black Vinyl Letters". If you choose Vinyl Letters we will install them for you, and all you have to do is tell us what you want on them.  
Before shipping your order we will install any 3M vinyl letters in black or white on each caliper. The letters are your choice, and while most prefer the letters on the OEM Performance Calipers, many want BREMBO (The Caliper's Manufacturer's Name), or a Brembo Logo. Others want their Name or Initials, but it's your choice. All you have to do is Select "Vinyl Letters" from the pull-down menu and then just click on "Add an Optional Note" in your shopping cart. If you select "None - Plain Red" you will get 4 plain red calipers with no letters, so please tell us what you want and be sure to select the White/Black Vinyl Letter Option unless you want plain red calipers.
Default Vinyl Letters: If you select white or black vinyl from our pull-down menu without giving us your choice of the letters or logo, we will assume you want the default OEM Style. Please don't forget to Add an Optional Note once you place this item in your shopping cart.  
Included:  You will receive 4 Caliper Covers.  You also can add a full set or rubber jack point adapters for only $35 extra.  These come in their own carrying case that zips up. Here is a link for details on the set of 4. A set of 4 is great to have if you rotate your own tires.
Installation time: The average installation time is about one hour.
Tools required:  Safety glasses, floor jack, impact wrench or lug wrench, torque wrench, 3/8" wrench.
DEMO & INSTALLATION VIDEO: 
Compatibility
These fit on 18", 19" inch TESLA wheels and other non TESLA wheels as long as the calipers are not performance.
Installation
DEMO & INSTALLATION VIDEO:
Our installation videos provide the necessary information to correctly install our products. Therefore, we strongly recommend that you watch the installation video/s both before ordering and before installing our products.
INTERNATIONAL ORDERS
We ship worldwide, and International Customers are responsible for all import fees, duties, VAT, GST, TAX, handling fees, and all other import costs in their respective country.  The shipping fees RPM collects only cover shipping & handling.