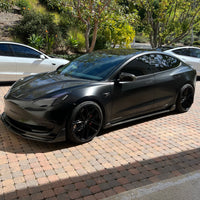 Model 3 Razzo Side Skirts Solid Back Style (1 Pair) - Real Molded Carbon Fiber
List price:
$1,123.75
Sale

• Save
Description
ESTIMATED LEAD TIME: In stock now!
Razzo Side Skirts made from 100% Molded Carbon Fiber.  Featuring a more aggressive look and they mount on the plastic side skirts, not on the pained rocker panels.  These attach with 3M double side tape and self tapping screws or rivets.  

Offered in Matte & Glossy Finish, the RAZZO Aero Side Skirts have dual front and rear upward facing flanges that match the corners on the front and rear diffusers. They also do not extend lower than the stock rocker panels so there is no clearance issues as the sides are not lowered. We also offer these Side skirts ass apart of a Full body kit found HERE.
 Our RAZZO Aero Kit for the TESLA Model 3 improves the curb appeal of your Model 3 while increasing downforce and handling. Our custom made kit is only available here on our website. You can order the full 8 piece kit, or individual pieces as listed below.
DEMO:
Warranty
Carbon Pattern Warranty: Real Molded Carbon Fiber is hand laid and is not Prepreg Wet Molded, so it may show imperfections in pattern direction. These variations are normal and are not a manufacturer's defect. Please refer to our Return Policy if you would like to return them.

UV Warranty: Our Real Molded Carbon Fiber is coated with 3 coats of UV Protection. Over time without proper care from waxing or applying a nano-ceramic coating, this protection can wear off. The warranty is limited to 1 year. Slight yellowing is normal for carbon fiber when parked outside in direct sunlight and is not covered under our warranty. To extend the life of our Carbon Fiber, we recommend using "303 Protectant". Ceramic coatings will assist with UV protection and we recommend Ceramic Pro.

NOTE: These are considered USED as soon as the double sided adhesive liner is removed. Used items are NOT RETURNABLE so please be sure you're happy with the way it looks and place it on your TESLA before removing the adhesive liner.
Installation
INSTALLATION:

Our Carbon Fiber RAZZO AERO KIT is Real Molded Carbon Fiber which is all woven carbon fiber with no fiberglass or plastic fillers. They are UV coated which insures years of beauty without yellowing of fading. We also add a coating of Ceramic Pro 9H to increase the UV resistance.

Installation only takes 2 hours.
Our installation videos provide the necessary information to correctly install our products. Therefore, we strongly recommend that you watch the installation video/s both before ordering and before installing our products.
Shipping information: Large
If you are in Southern California, and want to pickup your order, we are located at 23201 Antonio Parkway, Rancho Santa Margarita CA 92688, please select "Pickup" at checkout.
Variable Shipping Cost Note: When purchasing multiple oversize products, shipping cost will be calculated for each oversized product individually.
NOTE* To see if your order qualifies for lower cost shipping method, please email us with your shipping address prior to purchasing.
INTERNATIONAL ORDERS: International Customers are responsible for all import fees, duties, VAT, GST, TAX, handling fees, and all other import costs in their country. The shipping fees RPM collects only covers shipping & handling.
INTERNATIONAL ORDERS
We ship worldwide, and International Customers are responsible for all import fees, duties, VAT, GST, TAX, handling fees, and all other import costs in their respective country.  The shipping fees RPM collects only cover shipping & handling.