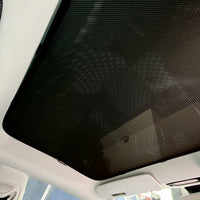 Model 3 Sunroof Sunshade Screen (Free Ground U.S. Shipping)
List price:
$61.25
Sale

• Save
Installation difficulty: Easy 1/5
Description
This custom made Sunshade Screens fits perfectly inside your Model 3's sunroof headliner area. It includes a carrying case for folded up storage, and 8 clips that hide under the headliner so all you see is the sunshade screen once installed.

The Model 3 sunroofs allow a tremendous amount of heat to pass through them, because the glass roof is not tinted.  Maybe people think they are tinted, but they are not and they are made with smoked glass. They do have some UV resistance, but limited IR, so without adding window tint to them, this item is a must. This will reduce the heat coming right through the smoked glass window.
At RPM we have our sunroofs tinted with 3M Crystalline for the greatest heat reduction, but we also have these sunshades installed as well.  
This is very easy to install and to remove.  Check out our video to learn how it holds on and how it folds up. 
DEMO & INSTALLATION:
Installation
Our installation videos provide the necessary information to correctly install our products. Therefore, we strongly recommend that you watch the installation video/s both before ordering and before installing our products.
INTERNATIONAL ORDERS
We ship worldwide, and International Customers are responsible for all import fees, duties, VAT, GST, TAX, handling fees, and all other import costs in their respective country.  The shipping fees RPM collects only cover shipping & handling.