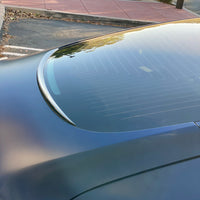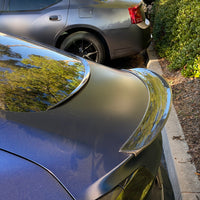 Model 3 Trunk Rain Deflector
List price:
$111.30
Sale

• Save
Installation difficulty: Easy 1/5
Description
Shipping outside the Contiguous USA and International is Extra. Please email us with your address before ordering for the shipping cost.
Our Model 3 Trunk Rain Deflector really works!  Watch our Demo Video to see it in action.  We have tested this under all rain conditions, and we believe it makes a big difference even in light rain. 
Opening our trunks in our Model 3's is a real problem if it's raining.  First, all of the beaded water sitting on the top of the trunk liftgate gets tossed onto the rear window when we open our trunks.  This extra water combined with the beading water on the window starts a fast quick flow of streaming water rushing right towards our trunks.  The flowing water has no chance to drip into the drain channel because of the speed it's traveling, and the water pours over the rubber seal right in our trunks.
Second, If it's raining very hard and if our trunk is open, water accumulates and beads up on the rear window until the beads become too large then they eventually turn to streams and the water runs right down your window over the rubber trunk seal into your trunk.   This is because of the speed the water is traveling as it picks up more water beads and they combine increasing the rate of flow.  Our Rain Deflector will deflect rain from pouring in your trunk.
SOLUTION:
What is the solution? An automatic dam that pops up whenever it is raining hard would help, but that wasn't included with our Model 3's.  What we offer to help is a small spoiler like a piece of plastic injection molded plastic. It is a lip that is painted glossy black so you barely notice it sitting on your back window just above the trunk lift gate. Our Rain Deflector simply channels the water away from the middle of the trunk towards the sides and back into the trunk rain channel.
Please watch our demo video to understand more.  Again this installs in seconds and holds on with 3M double sided tape.
DEMO & INSTALLATION:
Installation
Our installation videos provide the necessary information to correctly install our products. Therefore, we strongly recommend that you watch the installation video/s both before ordering and before installing our products.
INTERNATIONAL ORDERS
We ship worldwide, and International Customers are responsible for all import fees, duties, VAT, GST, TAX, handling fees, and all other import costs in their respective country.  The shipping fees RPM collects only cover shipping & handling.