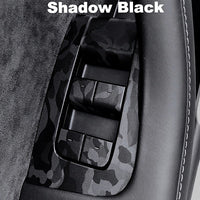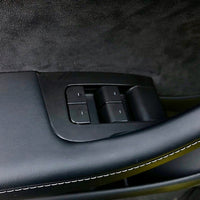 Model 3 & Y Window & Door Switch Vinyl Wraps
List price:
$49.99
Sale

• Save
Installation difficulty: Hard 3/5
Description
Wood Dash Matching Door Switches do not include the window button wraps.
Protect your inside door handle's glossy finish on your Model 3 with these vinyl wraps. They also help deter the pulling of your driver and passenger door's emergency exit latch.
Many customers have asked for this item after buying our vinyl wraps for their steering wheel, dashboard, and or their center console.  This new item is made in any matching vinyl material, including our best selling Model 3 interior center console colors, carbon fiber, brushed metal, matte black or any other one you choose.  These vinyl decals cover up both front door emergency latches so your passenger or a valet will not mistakenly pull and damage your emergency exit latch.
Why not protect and spruce up your 4 door handles vinyl accent pieces? You can also buy matching pieces to accent your steering wheel, dashboard panel, center console, and you Doorsill plate.
These are very easy to install. Takes only 5-10 minutes & we have an installation video coming out soon.
You get a total of 8 pieces to protect all 4 doors. These cover up the power window buttons and the UPPER power door unlocking button. Click on this LINK to see our installation video.
This is a dry installation and there is no water needed, just place down and squeegee in place. Each of the 8 pieces still show the illuminated lights through the decal for your window and power door lock switch.
The Carbon Fiber weave pattern will match the other items we make and the patter will run from the lower left side to the upper right side. For brushed metal the patterns will be horizontal. These are made the same as the steering wheel.
Made from 3M 1080 Vinyl Wrap.
Materials choices include:  Shadow Black, Vinyl Wood Dash Match, Matte Black Vinyl, Carbon Fiber, Brushed Black Metal, Brushed Silver, Brushed Titanium and Matte Black.
NOTE:  For the Vinyl Wood Dash Match material we do not included the inside button covers. Only as shown in the last photo.
INSTALLATION:
Installation
Our installation videos provide the necessary information to correctly install our products. Therefore, we strongly recommend that you watch the installation video/s both before ordering and before installing our products.
INTERNATIONAL ORDERS
We ship worldwide, and International Customers are responsible for all import fees, duties, VAT, GST, TAX, handling fees, and all other import costs in their respective country.  The shipping fees RPM collects only cover shipping & handling.