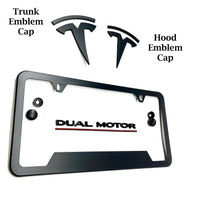 Model 3 & Y - Goodbye Chrome, 3 Item Black Out Package (Save $25)
List price:
$48.75
Sale

• Save
Installation difficulty: Easy 1/5
Description
3 Item Bundle Package to Delete your last chrome parts on your Model 3 & Y
This kit is everything you need to complete your chrome delete.  All Model 3's and Model Y's have chrome deleted trims now, but TESLA forgot to black out the T logo Emblems, the Dual Motor Badge Emblems, and your License Plate Frame.  All of these are still plated in chrome or are polished aluminum.
This combo kit includes 3 of our popular items and you save an additional $25 when you buy them together in this kit.  You get everything shown in the photos.
PRICING:  $ 39 for the full kit, plus $10 with Installed Vinyl Letters on the Frame.   
These prices will be reflected once the item is in your shopping cart when your cart reaches our automatic 20% off minimum threshold.  This varies from $50 - $150 throughout the year.
Below are the 3 items we include along with links to the individual items so you can learn more about them. Each have their own DIY installation video you can watch to learn how easily they install. Look for the installation TAB next to the description.

First - Satin Black T Logo Caps - (1 Pair ) These are installed by placing them right over the chrome plated plastic T Logos emblems on your car. Simple ,just press on to install. Here is the LINK to the item.  
Second - Black Dual Motor Badges - This item includes the emblems and the red line, installed optionally of course.   Here is the LINK to learn how to remove your chrome one and how to install ours.
Third -  Aluminum Satin Black License Plate Frame. This aluminum powder coated license plate frame replaces the shiny aluminum one included with your Model 3 or Y. Here is the LINK to learn more about it. You can elect to have us install vinyl letters on the bottom so your TESLA reads "Model 3" or "Model Y", in a color of your choice. We install the Model 3 or Model Y 3M vinyl Decals by hand for you, as shown in the photos.  It is $8 more for this option.
BELOW is our Demo Video and our Installation videos for the T Logo Caps and for the Dual Motor Badges.
Demo Video:
Installation Video for T Logo Caps :
Installation Video for Dual Motor Badges:
Installation
Our installation videos provide the necessary information to correctly install our products. Therefore, we strongly recommend that you watch the installation video/s both before ordering and before installing our products.
INTERNATIONAL ORDERS
We ship worldwide, and International Customers are responsible for all import fees, duties, VAT, GST, TAX, handling fees, and all other import costs in their respective country.  The shipping fees RPM collects only cover shipping & handling.