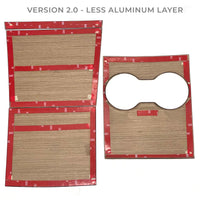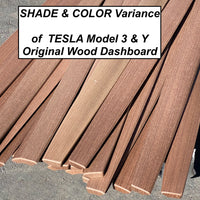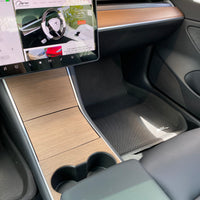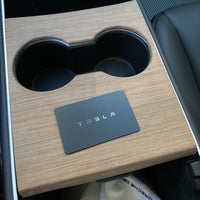 Model 3 & Y Center Console Overlays (Gen. 1) - Real Open-Pore Wood Veneers
List price:
$286.25
Sale

• Save
Installation difficulty: Moderate 2/5
Description
Many customers have been waiting for our real wood veneer center console overlay and it's finally completed.  Making this wood veneer perfectly matching and perfectly fitting has been RPM's biggest challenge since we created the molded carbon fiber dashboard replacements.

This 4 piece kit fits perfectly on top of your glossy black painted center console and if you love your open-pore wood dashboard you will love this even more.  
Our newest updated version is no longer laminated to an aluminum layer, but we simply laminated it a 2nd layer of wood.  It is now strong enough to not crack or chip and is flexible enough to install with ease.
4 Years in the making to produce this dashboard wood matching Real Open-Pore Wood Veneer Overlay for the Model 3 and Model Y.
FEATURES:
Perfect Color Match for the TESLA Original Wood Dashboard

Sealed & Waterproof Surfaces

Easy to install, just peel and stick

Perfect fit for simple overlay installation.
Construction & Composition :
This 4 piece kit is made with of real wood veneer just like your TESLA OEM wood dashboard. It starts with 2 0.5 mm thin piece of open-pore wood that is laser cut to fit perfectly over your center console pieces. We then bond the first layer to a 2nd layer and then we apply 3M VHB tape that will hold the overlay to your center console. We also seal the wood and finish it to make it waterproof and stain proof. Lastly, we paint the side edges black to make it look perfect.
INSTALLATION:  
This items could not be easier to install.  Just peel and stick! Once installed you do have to secure the pieces down after with painters tape so the double sided tape will bond, but that is it.
The double sided tape is very strong and if you install a piece off center, and if you need to pull it off to adjust it there should not be a problem as long as you have clean the plastic surface with alcohol and it is free of dirt and oils. If you have any issue with it bonding please contact us for some new double sided tape.  
DEMO:
 INSTALLATON:
Compatibility
Fits Generation 1 Center Consoles only. Compatible with Model 3's Made From 03/2020 through Feb 08, 2021.
Installation
Our installation videos provide the necessary information to correctly install our products. Therefore, we strongly recommend that you watch the installation video/s both before ordering and before installing our products.
INTERNATIONAL ORDERS
We ship worldwide, and International Customers are responsible for all import fees, duties, VAT, GST, TAX, handling fees, and all other import costs in their respective country.  The shipping fees RPM collects only cover shipping & handling.