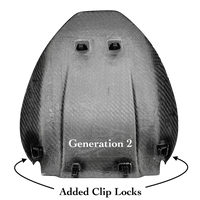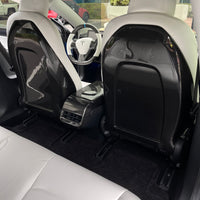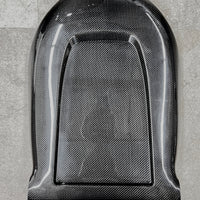 Model 3 & Y Seat Back Replacements Gen. 2 - Real Molded Carbon Fiber (1 Pair)
List price:
$998.75
Sale

• Save
Installation difficulty: Easy 1/5
Description
BRAND NEW GENERATION 2 FOR MODEL 3 & Y
This popular item may be out of stock. Please contact us for updates on inventory.
Our New Tooling is completed and our Gen. 2 version fits even better and is now dry molded.  We have improved the locking clips to include fitment into the 2 metal side locks on the lower sides of each seat.  We also improve the installation method so please watch our updated installation video below.

If you love real carbon fiber and do not use the pockets in your seat back, you will love our Real Molded Carbon Fiber Seat Back Replacements.  They are not caps.  They are replacements.
These are not fiberglass covered, nor ABS.  They are made from Real Molded Carbon Fiber and are super lightweight with a perfect 2x2 twill weave pattern.  They are 3 pounds lighter than your current seat backs.  We had an overwhelming amount of customers requesting replacement types, so we tooled up and are now selling these. 
The Seat Back Replacements include one pair.  This includes one for the driver's seat and passenger seat and two seat belt dampening pads with each order.  
DEMO VIDEO & NEW TYPE OF INSTALLATION IS BELOW THIS ONE:
GENERATION 2 EXPLANATION & NEW SIMPLE INSTALLATION METHOD:
Compatibility
Fits All Model 3's & Y's with pocket style back seats.
Warranty
Carbon Pattern Warranty: Real Molded Carbon Fiber is hand laid and is not Prepreg Wet Molded, so it may show imperfections in pattern direction. These variations are normal and are not a manufacturer's defect. Please refer to our Return Policy if you would like to return them.

UV Warranty: Our Real Molded Carbon Fiber is coated with 3 coats of UV Protection. Over time without proper care from waxing or applying a nano-ceramic coating, this protection can wear off. The warranty is limited to 1 year. Slight yellowing is normal for carbon fiber when parked outside in direct sunlight and is not covered under our warranty. To extend the life of our Carbon Fiber, we recommend using "303 Protectant". Ceramic coatings will assist with UV protection and we recommend Ceramic Pro.
Installation
Installation Video
Offered Per Customer Request: We have optional seat belt dampening pads (2 foam strips) that you can stick on each belt buckle and prevent unwanted noise and potential damage from the buckles. Send us an email at rpmtesla@gmail.com if you have any further questions.
Our installation videos provide the necessary information to correctly install our products. Therefore, we strongly recommend that you watch the installation video/s both before ordering and before installing our products.
Shipping information: Regular
If you are in Southern California, and want to pickup your order, we are located at 23201 Antonio Parkway, Rancho Santa Margarita CA 92688, please select "Pickup" at checkout.
Variable Shipping Cost Note: When purchasing multiple oversize products, shipping cost will be calculated for each oversized product individually.
NOTE* To see if your order qualifies for lower cost shipping method, please email us with your shipping address prior to purchasing.
INTERNATIONAL ORDERS: International Customers are responsible for all import fees, duties, VAT, GST, TAX, handling fees, and all other import costs in their country. The shipping fees RPM collects only covers shipping & handling.
INTERNATIONAL ORDERS
We ship worldwide, and International Customers are responsible for all import fees, duties, VAT, GST, TAX, handling fees, and all other import costs in their respective country.  The shipping fees RPM collects only cover shipping & handling.