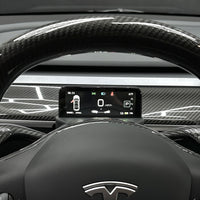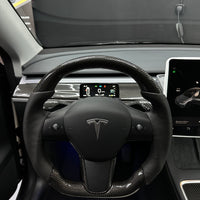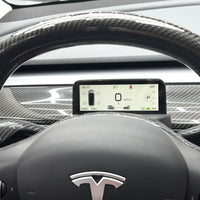 Model 3 & Y Steering Column Instrument Cluster Display
List price:
$248.75
Sale

• Save
Installation difficulty: Hard 3/5
Description
Model 3 & Y owners can now keep their eyes looking straight ahead, on the road like Model S & X owners do.
If you are tired of turning your head to see your dashboard display to check your speed, to see if high beams are on, check your auto pilot's following distance, or to check tire pressure, you will love our new Steering Column Instrument Cluster Display, as all of this information will be right in front your eyes.
Many TESLA Model 3 & Y owners do care for looking through the menu system to look up their tire pressure as well.  No more that is also displayed on our unit.
This display makes driving safer, and reduces driving risk and reduces the frequent turning of eyes and your head to see your main display.  Once installed, your eyes will always be looking straight ahead, and you will not have to turn you head towards your display to look at your speed and other information on your main display.

Display Features Include :
High Resolution IPS Display
Your Speed (in MPH of KM)
Tire Pressure Sensor reading (PSI or BAR)

The current speed limit 
Your TESLA's Range (in % & miles)
Odometer (miles or km)

Trip Mileage (miles or km)

Time

Temperature Outside

Gear Indication - Park, Neutral, Reverse, Drive
Stop or Hold indicator 
Autopilot Distance Settings
Headlights & fog light indicator
High beam Indication on or off.
Turn Signal indicator
Time (12hr or 24hr)
Ambient Outdoor Temperature (C or F)
USA (mph) and Metric System (km).
This unit replaces the top half of your steering column by simply snapping into place. It plugs directly into the Tesla computer on board, AMD or INTEL, and the computer data is shared to this display.  In our videos below we demonstrate the functions, how to install it.  
Installation:
The stock steering column top pops off and this replaces it. You connect 1 or 2 plugs and that is it.  No splicing wires, all plug and play.  No warranty issues.
This self installing display installs in 20-40 minutes, and please watch our Demo video below to understand how this will improve your driving experience and keep your eyes line of sight straight forward with your eyes on the road.
UPDATE NOTE: Those purchased December 2022 January 2023 Already have the most up to date version. If you bought before or after these dates and are encountering laggy or non responsive interface. Please message our customer service team and they will check with a tech rep to make sure that you get the correct update for you car model and year.
NOTE: When wearing polarized lenses. It may be possible to see discoloration on the screen. 
DEMO VIDEO:
INSTALLATION VIDEO FOR AMD & INTEL
Installation
INSTALLATION VIDEO FOR AMD & INTEL
AMD 2021+ Installation Video
Our installation videos provide the necessary information to correctly install our products. Therefore, we strongly recommend that you watch the installation video/s both before ordering and before installing our products.
INTERNATIONAL ORDERS
We ship worldwide, and International Customers are responsible for all import fees, duties, VAT, GST, TAX, handling fees, and all other import costs in their respective country.  The shipping fees RPM collects only cover shipping & handling.