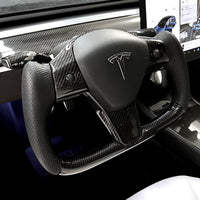 Model 3 & Y Yoke Style Steering Wheel - Carbon Fiber & Black Leather Handles
List price:
$1,998.75
Sale

• Save
Sales Price:
$999 - $1978
Installation difficulty: Moderate 2/5
Description
ESTIMATED LEAD TIME:  3 to 4 weeks for new orders.  PLEASE EMAIL/LIVE CHAT US FOR THE RETURN LABEL FOR YOUR CORE DEPOSIT REFUND.
Heated Steering Wheel: RPM is Proud to offer TESLA OEM Heated Carbon Fiber Steering Wheels for Model 3 & Y.   Full Carbon wheels cannot be made heated. Your Original Wheel must be heated to work. Only $200 Extra. Just order any of our Non-Imported steering wheels and let us know in the Note to RPM if you want it heated version. We will send you a $200 invoice for this to be added to the assembly of your steering wheel.  
PRICING:  With our 20% off sale pricing, this full carbon fiber steering wheel is only $999, and $200 more with heated handles, and $179 more with an installed carbon fiber bezel & 2 installed carbon fiber switch covers.  

We also have to collect an optional $600 refundable core charge, but  we will refund the $600 once we receive your original wheel returned to us.  We will even send you a return label and pay the return shipping if you are in the contiguous U.S., and you pay the shipping back if you are outside the contiguous U.S.. You can keep your original steering wheel if you want. 

WHY OUR OEM WHEELS ARE THE BEST:  Our Yoke carbon fiber steering wheel is the best money can buy!  Built on a TESLA OEM wheel with real dry molded carbon fiber that is hand made and not made from pre-pre carbon fiber layers.  This is not a replica wheel, but a TESLA steering wheel  that we have altered the perimeter.
Made from hand-laid carbon fiber providing for the thickets, richest, deepest carbon fiber gloss and shine.  We styled it from the Model S Plaid 2021 steering wheel and made proportionally for the Model 3 and Model Y. 
We purchase TESLA OEM Steering Wheels through authorized TESLA service centers.  These steering wheels wont affect any TESLA warranties, as they are not aftermarket steering wheels, but rather they are TESLA OEM Steering Wheels. 
We simply remove the vinyl or leather handle cover along with the urethane under the surface, and then we build it with carbon fiber after removing the top metal ring.  Then, we modify the perimeter of the steering wheel.  Afterwards, we vacuum form and mold the carbon fiber to the wheel core.
INSTALLATION:  It is vey easy to install this wheel.  We give you the Allen bolt to loosen your steering wheel and the torx bit to remove your stock switched so you can insert your own, and we include 2 Allen wrenched so you can quickly release your air bag.  It takes 15 minutes and everything is explained in our DIY videos below.
DEMO:
INSTALLATION:
WHITE AIR BAG WRAP:
Compatibility
Fits all Model 3's and Y's
Warranty
Carbon Pattern Warranty: Real Molded Carbon Fiber is hand laid and is not Prepreg Wet Molded, so it may show imperfections in pattern direction. These variations are normal and are not a manufacturer's defect. Please refer to our Return Policy if you would like to return them.

UV Warranty: Our Real Molded Carbon Fiber is coated with 3 coats of UV Protection. Over time without proper care from waxing or applying a nano-ceramic coating, this protection can wear off. The warranty is limited to 1 year. Slight yellowing is normal for carbon fiber when parked outside in direct sunlight and is not covered under our warranty. To extend the life of our Carbon Fiber, we recommend using "303 Protectant". Ceramic coatings will assist with UV protection and we recommend Ceramic Pro.
Installation
INSTALLATION: Self installation takes less than 20 minutes. In our installation video we teach you how to remove the steering wheel from the column, how to remove the switches, and then how to put both back in the steering wheel you ordered from us.

With your purchase, we ship you 2 allen wrenches, an allen socket, and a torx bit. First you will use the 2 allen wrenches to release your airbag, then use the allen socket to unscrew the wheel from the column. Lastly, you will use the torx bit to help assist you in removing the switches.

PLEASE WATCH OUR INSTALLATION VIDEO BELOW. IF YOU CAN REMOVE 4 screws you can install this.

Installation is free if you are local to us here in Southern California, and you do not have the pay the $600 core charge if you come to our location for a free installation.
Our installation videos provide the necessary information to correctly install our products. Therefore, we strongly recommend that you watch the installation video/s both before ordering and before installing our products.
INTERNATIONAL ORDERS
We ship worldwide, and International Customers are responsible for all import fees, duties, VAT, GST, TAX, handling fees, and all other import costs in their respective country.  The shipping fees RPM collects only cover shipping & handling.