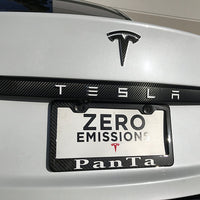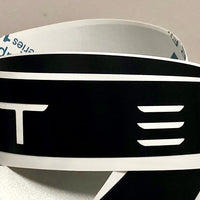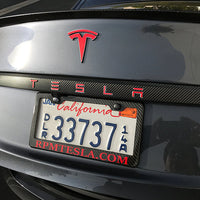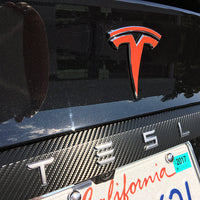 Model S Tailgate Applique Vinyl Wrap - Variety*
List price:
$59.00
Sale

• Save
Installation difficulty: Hard 3/5
Description
Thank you for looking at our beautiful Model S Rear Tailgate Applique.  Carbon fiber is the easiest to install as it is much thicker than satin black, glossy black, or flat black.  
Also for easy of installation this item needs to be installed when it is warm, but not too hot.  Ideally temperature is 75-85 degrees F, and ideal flexibility.  
When you order, you have to choose what size the T-E-S-L-A letters are on your rear applique'.  You have to measure how wide the letters are.  THIS IS NOT determined by your model year.  The letters measure either 5/8" wide or 7/8" wide.  The original 2012-2014 Model S's had the smaller flatter 5/8" wider letters but many have been replaced for possible water leaks.  So Tesla owners need to measure the width of the letters.
We designed this so it is very easy to install.  The last image above is a video of the installation.  In stock now in Black Carbon Fiber, Satin Black, Satin White, Glossy Black or Carbon Fiber White.  For custom colors just let us know what you want as we can make this in any custom color of choice.
The photos above show our new wrap with un colored T-E-S-LA letters and some have red reflective letters, and these are sold separately and we can make the T E S L A letter in other colors too.
Colored letter decals are not included so be sure to add the items to your cart as well. The last 2 photos show the wrap with the standard chrome letters.  Adding colored or even black carbon fiber letters really make the T-E-S-L-A letters pop because of the chrome trip we have left in the pattern.
Putting this item is easy with a turbo squeegee to tuck in the wrap on the edges.  We are including this for free along with your wrap.
Lastly, please watch our installation video before you try to put this on, and you do not need to be afraid of the size of this wrap, we make it very simple to put on.
DEMO & INSTALLATION:
Installation
Our installation videos provide the necessary information to correctly install our products. Therefore, we strongly recommend that you watch the installation video/s both before ordering and before installing our products.
INTERNATIONAL ORDERS
We ship worldwide, and International Customers are responsible for all import fees, duties, VAT, GST, TAX, handling fees, and all other import costs in their respective country.  The shipping fees RPM collects only cover shipping & handling.