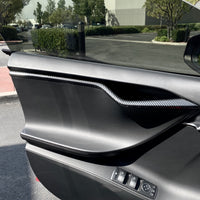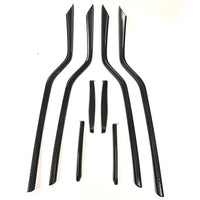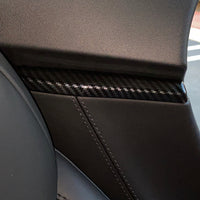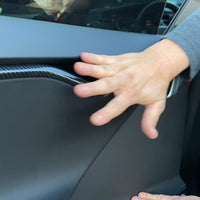 Model S Interior Aluminum Conversion Kit - Hydro Carbon Fiber Coated
List price:
$236.25
Sale

• Save
Installation difficulty: Easy 1/5
Description
If you have our carbon fiber dashboard kit this is a must!  You will love this kit.  If you don't like the aluminum trim on your doors and you love carbon fiber this will be a must.
This 8 pieces kit covers up all of the aluminum trim on the inside of your doors and pillars.  Each of your 4 doors have a long aluminum strip on the door handles that can get dented and scratched over time.  Four of the pieces cover up the aluminum strips on each door, and the other 4 pieces cover up the aluminum pieces between the front and back seat along with the 2 strips by the back seat belts.
These are made from ABS injection molded plastic with a printed carbon fiber coating.  These are available in a Glossy (Wet) finish or in a Matte (Dry) finish.  The glossy finish is rich and very striking.  It has a deep lustrous appearance with a UV coated which ensures years of beauty.  The matte finish matches the TESLA original dashboard finish per the photographs.
This self installation kit is very easy to install.  Level 1 for ease of installation.  Just simply peel off the double sided tape and press it in place, watch our installation video before ordering to see how easy this is.
Easy to remove as well, just heat them up with a heat gun or hair dryer and then slowly pull them off.
DEMO & INSTALLATION:
Compatibility
Fits all Model S's from 2012 - 2021 non refreshed
Warranty
Carbon Pattern Warranty: All of our Hydro Printed products use a process called Hydro Dipping. This Water Transfer Process is also susceptible to Pattern Variations. These variations are normal and are not a manufacturer's defect.

UV Warranty: Our hydro carbon fiber coated and painted products are coated with a UV protection layer. However, this layer can be worn off if left in direct sunlight or from car washes and other forms of abrasion. The warranty for this form of wear and tear is 6 months. Over time the paint may fade or lose its shine. To extend the life of these products, we recommend using "303 Protectant". This will enhance the UV protection. Ceramic coatings also assist with UV protection. We recommend Ceramic Pro and 3M Ceramic.

NOTE: These are considered USED as soon as the double sided adhesive liner is removed. Used items are NOT RETURNABLE so please be sure you're happy with the way it looks and place it on your TESLA before removing the adhesive liner.

Installation
Our installation videos provide the necessary information to correctly install our products. Therefore, we strongly recommend that you watch the installation video/s both before ordering and before installing our products.
Shipping information: Regular
If you are in Southern California, and want to pickup your order, we are located at 23201 Antonio Parkway, Rancho Santa Margarita CA 92688, please select "Pickup" at checkout.
Variable Shipping Cost Note: When purchasing multiple oversize products, shipping cost will be calculated for each oversized product individually.
NOTE* To see if your order qualifies for lower cost shipping method, please email us with your shipping address prior to purchasing.
INTERNATIONAL ORDERS: International Customers are responsible for all import fees, duties, VAT, GST, TAX, handling fees, and all other import costs in their country. The shipping fees RPM collects only covers shipping & handling.
INTERNATIONAL ORDERS
We ship worldwide, and International Customers are responsible for all import fees, duties, VAT, GST, TAX, handling fees, and all other import costs in their respective country.  The shipping fees RPM collects only cover shipping & handling.