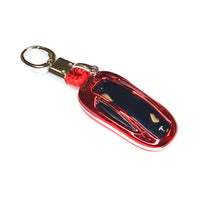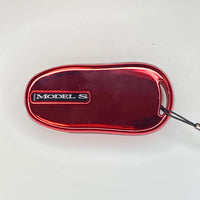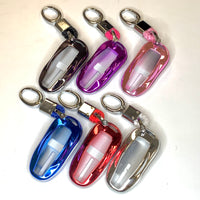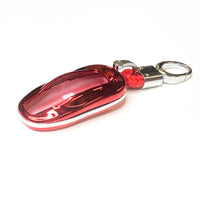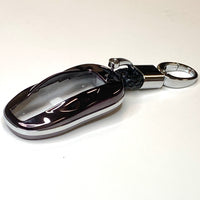 Model S3XY Key FOB Covers & Keychain
List price:
$30.00
Sale

• Save
Installation difficulty: Easy 1/5
Description
Give your Model S, X, 3, or Y Key FOB a beautiful protective cover and keychain.
These new affordable versions are plastic injection molded and glossy painted in one of the 6 colors listed below.  They feature a matching braided cord connecting the chrome plated solid brass ends and fast connecting hook.
Protect your key FOB remote, as they are expensive to replace.  No more scratches and fumbling for your key FOB if you have it in a purse or container. This style is designed to hook on.
Your choice of black, chrome, red, pink, purple, or blue (Model X).
These fit perfect over your key FOB's and all of the buttons work through the openings. They also come with a beautiful black retail box as shown. 
Model 3, Y, S are identical in size, only the X is larger and has side door buttons on them.  
Easy to install and does not affect the signal strength of your key FOB's transmitter.
Includes:  1 Key FOB + Screwdriver + Chrome Plated Solid Brass Key Ring & Hook, 1 Black Retail box.
Installation
Our installation videos provide the necessary information to correctly install our products. Therefore, we strongly recommend that you watch the installation video/s both before ordering and before installing our products.
INTERNATIONAL ORDERS
We ship worldwide, and International Customers are responsible for all import fees, duties, VAT, GST, TAX, handling fees, and all other import costs in their respective country.  The shipping fees RPM collects only cover shipping & handling.