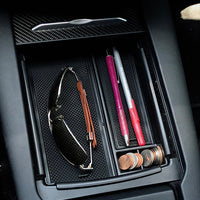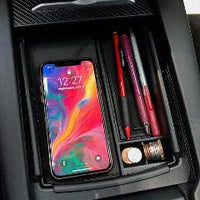 Model S & X Center Console Tray with Wireless Charging
List price:
$36.50
Sale

• Save
Installation difficulty: Easy 1/5
Description
Model S & X Center Console Tray with Optional Qi Fast Wireless Charging. 
If you have a TESLA Model S or X with a TESLA OEM Center Console this will make a great add on.  This fits both models made from 2016, but only the TESLA OEM built in center console version.  Not the $500 assembled version for older cars.
This storage shelf adds a top layer of organization to the large center console along with our superior optional wireless charging when we encase a high speed wireless dual charging puck inside of the left section.
ALL WIRELESS CHARGERS ARE NOT EQUAL
Our competitors sell something similar to this with a USB connection which is a terrible idea, as the USB-A port only puts out 0.5 to 1 amp in a Model S and X. This will not charge your phone in less than 1 hour.  Do not buy this type.  Our unit is high speed charging and we supply you with a high speed 3.0 wireless Qi charging 10 volt power adapter that plugs into your 10 Volt socket next to your USB ports.  This provides much more power and it is very simple to install and hide the charging wire inside your console.
Wireless charging only transfers 80-85% of the power wirelessly so if you use your USB ports you will charge even slower than wired charging. We solved this problem by including a 12 volt socket with the wireless charging option and you just plut it in for fast charging. We are able to charge wirelessly up to 5 times faster than wired USB charging.
Please watch our video to see the metered charging results and to learn how to hide the wire for a clean installation.
Material:
ABS Plastic Injection Molded Plastic designed to fit on top of the sliding center console.
Dimensions: 6" x 8" x 1.5"
Phone Compatibility:
The following Qi enabled smart phones will charge on our device: Apple iPhone: 8, 8 Plus, X. Samsung Galaxy: S9, S9+, Note 8, S8, S8+, S7, S7 Edge, Note 5, S6, S6 Edge.LG: V30, G6 (US version), Google Nexus: 4, 5, 6, 7 & BlackBerry. Older mobile devices can take advantage of Qi wireless charging with a wireless charging case that can be acquired separately at low cost. Check out amazon for a wireless charging case for pre-Iphone 8 and 10 models.
Warranty: Others only give 30 Days on Amazon, or Ebay, and some may offer 6 months, but we give you a lifetime warranty on this item.   Customer Service is number 1. Wear and tear are not covered.
DEMO & INSTALLATION:
Installation
Our installation videos provide the necessary information to correctly install our products. Therefore, we strongly recommend that you watch the installation video/s both before ordering and before installing our products.
INTERNATIONAL ORDERS
We ship worldwide, and International Customers are responsible for all import fees, duties, VAT, GST, TAX, handling fees, and all other import costs in their respective country.  The shipping fees RPM collects only cover shipping & handling.