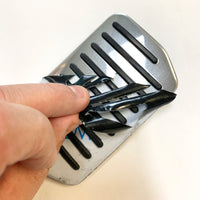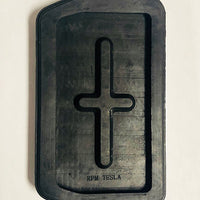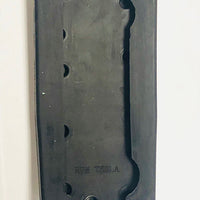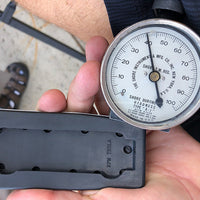 Model S & X Performance Pedals - Matte Finish
List price:
$37.00
Sale

• Save
Installation difficulty: Easy 1/5
Description
Your choice of finish and only $24.99 for the pair when combined with our 20% Off promotion on orders over $150.  You also can get a Dead Pedal (Left Footrest Pedal)

PROMOTION:  If you want a matching set of pedals, including the Dead Pedal, or left foot rest pedal, CLICK HERE for Model S and CLICK HERE for Model X. Once you add them to your shopping cart the Dead Pedal is 75% off or only $13. Enter Promo Code PEDALS at check out.  This cannot be combined with our 20% Off automatic discount so make sure you do not have $150 or more in your shopping cart. Total for all 3 pedals is $43 with this promo.
RPM TESLA has the best polished aluminum performance pedals you can buy for your Model S or X. 
Easy for anyone to install, made from odorless rubber, and made in the USA. These pedals are priced lower than the Chinese imports and are made from virgin rubber not reclaimed rubber from old tires from China.
Many customers have complained to us about the cheap imported ones that smell up their Tesla, and how hard they are to install. The imported ones are made from rock hard rubber and are very hard to install. We aspired to make the best pedals we could and we took our redesign efforts a step further by making the accelerator rubber base in a softer rubber compound (40 Durometer), not 70 durometer, so you can actually stretch it over the metal pedal and get it installed easily.
Our Made in USA pedals are made from SBR rubber like the OEM Tesla Performance pedals, and with our new improved bright polished aluminum they will shine and reflect like mirrors.  These fit right over your metal pedals.  Just pop off the rubber brake pedal and slide this on.  The accelerator just fits right on top of the metal pedal.
DEMO & INSTALLATION:
Compatibility
Fits Model S 2012-2020 & Model X 2016-2021
Installation
Our installation videos provide the necessary information to correctly install our products. Therefore, we strongly recommend that you watch the installation video/s both before ordering and before installing our products.
INTERNATIONAL ORDERS
We ship worldwide, and International Customers are responsible for all import fees, duties, VAT, GST, TAX, handling fees, and all other import costs in their respective country.  The shipping fees RPM collects only cover shipping & handling.