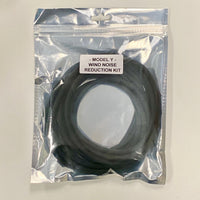 Model Y Wind Noise Reduction Kit
List price:
$29.99
Sale

• Save
Installation difficulty: Hard 3/5
Description
If you want to make your Model Y quieter on the inside and if you notice the sound of wind around your windshield will make a difference. We also sell a road noise reduction kit that doubles the door seals and trunk's seals.
With 25,000 sold for Model 3 RPM has been asked to make this for Model Y for since March. RPM Created this item for the Model 3, and the rest are just imitations with 30 days warranties.
This Model Y version is made from a smoother silicone rubber making installation easier and increasing longevity. Comes with our usual lifetime warranty unlike Ebay and Amazon copies.
RPM TESLA invented this item and many have tried to copy it. The items on Amazon and Ebay have no warranty after 30 days. If it flies off your roof and you buy it from them you are out of luck. Buy American Made from RPM TESLA. We give you a lifetime warranty, and we've sold over 10,000 of these wind noise kits. THEY REALLY WORK!
This custom made expandable silicone rubber seal fills up the channel around the top of your windshield and around the entire perimeter of the glass roof panel. This rubber compound was selected for outdoor use with its ozone resistance.
Strong crosswinds and headwinds can cause loud wind noises in many Model 3's. When we received our Model 3 in January 2018 we asked Tesla customer service about the windshield upper wind noise but service said it was normal.  After owning several model S's we knew this was not normal for a Tesla. We also noticed similar complaints on forums. So our investigation began.
The gap or channel between the 2 glass pieces on the Model Y has a deep area that spans the entire width of the windshield. With the help of John, a very smart engineer and RPM customer, we tested the Model 3 with a sound meter comparing it with and without our seal, and our theory was proven.  Over a course of 3 days we drove the same roads and freeways with and without the seal and we found a 5 to 8 decibel difference under windy conditions.  The rough wind noise from the top of the windshield was now gone. When the seal is installed it eliminates this channel and stops the air from getting trapped between the 2 panels.
More Testing Details:  We tried different roads and different speeds. We ran repeated tests with and without the seal on the car, then on the same road and then go try on a different road and different speed. We always tested in both directions to ensure we were comparing apples to apples as close as possible.  THIS WAS CRITICAL.
Conclusion:  We believe what is happening is the channel (gap) acts as a resonant cavity for certain frequencies and if those frequencies fall in the spectrum that you are most sensitive to it will annoy you. If not, you will tune it out. John didn't have a spectrum analyzer, but that would have added an interesting dimension to the analysis. Also we found the wind noise to be louder near the corners of the windshield. This reduces wind noise by up to 8 dBs.
DEMO & INSTALLATION:
Installation
Our installation videos provide the necessary information to correctly install our products. Therefore, we strongly recommend that you watch the installation video/s both before ordering and before installing our products.
INTERNATIONAL ORDERS
We ship worldwide, and International Customers are responsible for all import fees, duties, VAT, GST, TAX, handling fees, and all other import costs in their respective country.  The shipping fees RPM collects only cover shipping & handling.