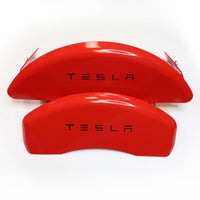 Model 3 Flat Caliper Covers - Red (Engraved TESLA or with Vinyl TESLA Letters ) - $69 with 40% OFF
List price:
$115.00
Sale

• Save
Installation difficulty: Expert 4/5
Description
***Discontinued Item***
Please read our policy regarding Discontinued items before purchasing. You can find information regarding our discontinued items HERE.
-----------------
Aluminum Caliper Covers are very simple to install, not permanent, and have no warranty compromising risk.
Made specifically to fit over the Tesla Model 3 stock brake calipers, these Caliper Covers will give your Models 3 a RED Caliper Painted look. These fit on 18" inch and 19" OEM Tesla wheels. If you are tired of looking at the small undersized horseshoe shaped rear calipers, look at how nice these brighten up your wheels.
Caliper Covers not only look awesome but they reduce brake dust accumulation in your wheels. These are made lightweight 6061-T6 Aerospace Aluminum that covers the caliper for a perfect fit.  
They are powder coated in bright red for a long-lasting, beautiful look and these flat caliper covers do not have the fake bolt patterns.
Optional Letters:  Want us to customize your calipers for you? We will do it at no charge. From our pull down menu you have to choose "None - Plain Red" or "White, or Black Vinyl, or Silver Engraved". If you choose Vinyl Letters we will install them for you, and all you have to do is tell us what you want on them.  
The letters are your choice, and while most prefer the letters on the OEM Performance Calipers, many want BREMBO (The Caliper's Manufacturer's Name), or a Brembo Logo. Others want their Name or Initials, but it's your choice. All you have to do is Select "Vinyl Letters" from the pull down menu and then just click on "Add an Optional Note" in your shopping cart.
If you select "None - Plain Red" you will get 4 plain red calipers with no letters, so please tell us what you want and be sure to select the White/Black Vinyl Letter Option unless you want plain red calipers.
Default Vinyl Letters: If you select white or black or silver, from our pull down menu without giving us your choice of the letters or logo, we will assume you want the default OEM Style. Please don't forget to Add an Optional Note once you place this item in your shopping cart.  
We also can paint your stock calipers for $629 if you live in Southern California and you bring your car in to us for a day. These caliper covers are a great lower cost non-permanent solution to covering up the plain silver calipers on your Model 3.   
INSTALLATION: 
If you can remove your wheel and if you you can torque your lug nuts to 110 pounds, you can do this installation yourself.
To install the covers you simple push on 2 clips on the upper and lower end of the caliper, and then you put a nut over a screw and you are all set. Watch the 2 installation videos to learn more, but it this is so simple you will not believe it.
Installation time:  Average installation time is about one hour.
Tools required:  Safety glasses, floor jack, impact wrench or lug wrench, torque wrench, 3/8" wrench.
DEMO & INSTALLATION:
                                           FAQ's
Will RPM TESLA's caliper covers fit with my Model 3 wheels?
Yes, Caliper Covers fit all versions of the Model 3. These custom-fit Caliper Covers have been designed for optimal fitment for both 18" and 19" and 20" TESLA wheels.
Caliper Covers will guarantee brake caliper fitment when utilizing the appropriate RPM TESLA Caliper Cover part number specific to the Model 3. In addition, installation must be performed in adherence to the included installation instructions.
What if I have aftermarket wheels?
Caliper Covers are designed for a close fit. If you have aftermarket wheels and would like to determine whether you have enough clearance, measure from the back of the wheel to the front of the caliper. If you have 1/8" (approximately 3mm) of clearance, you have enough space. To test - if you can slide two stacked quarters between the brake caliper and the wheel, you should have enough clearance. If a vehicle has been fitted with aftermarket wheels, it is the customer's responsibility to verify a 3mm clearance prior to placing the order. Because of the vast variety of aftermarket wheels, it is imperative that this be executed before an order is placed.  Caliper Covers require 3mm of clearance between the brake caliper and the inside face of the wheel. If a customer is unsure as to whether the wheel configuration has the necessary clearance, it is recommended that you contact us before you place an order.
Will caliper covers reduce brake dust on my wheels?
Customers report a significant decrease in brake dust after installation of Caliper Covers. See the "Features" tab for more.
When using regenerative braking with my Model 3, will brake dust or heat dissipation still be factor?
You'll still use your brakes. But it's true that you'll use your brakes less in a Model 3 than someone driving a gas-powered internal combustion engine vehicle due to regenerative braking.
To get that "pop" of color, can't I just order red calipers with my Model 3?
At this time, red calipers are not an option with Model 3.
What about painting my calipers?
You can try painting your calipers, but be prepared for a lot of work. First, you'll need to get the whole car up on jack stands. Then you'll have to decide whether to paint them in place or disassemble them. Either way, everything will have to be completely clean or the paint won't stick. If you're painting the calipers in place, you'll need to use a brush, but there will be areas that will be hard to get to. Caliper Covers provide a more convenient and cleaner approach.
Will the red coating on my caliper covers hold up to the heat?
Caliper Covers are powder coated for high heat, durability and toughness.
Are caliper covers removable for brake service?
Yes. Reverse installation, remove, and replace after service.
Can I order a blank caliper cover or one with a color of my choice?
No, the only options available are the options in our pull-down menu.
Does the red used on Caliper Covers perfectly match the Tesla red body paint?
No, the red used for Caliper Covers is called "Red Baron." It is a fairly standard color used by most of the popular big brake companies. Nearly all customers with red cars are perfectly fine with this color. Since the brakes are not against the body of the vehicle, the red being slightly different is not very blatant / obvious. And, according to our customers, it blends in nicely and looks very sharp. However, this is subjective.
Can I install caliper covers myself?
Professional installation is normally required but if you can remove your wheels and re-torque them you can should be able to handle this installation. Instructions will be provided with the product for the installer and instructions are also available in digital format within our "Instructions" tab (and we've also included an instructional video as reference in our "Videos" tab). Note: professional installation of Caliper Covers should take 45 minutes - 2 hours depending on the installer.
Where can I find a professional installer?
In every area, there are competent wheel and tire service centers / shops that have specialty in aftermarket product installation, these installers tend to be the most adept at installs like Caliper Covers. However, it is imperative that you ask your installer follow the instructions provided.
How long does it take to ship caliper covers?
We target your shipment from same day with expedited orders or 5-14 days for normal non-expedited.
Installation
Our installation videos provide the necessary information to correctly install our products. Therefore, we strongly recommend that you watch the installation video/s both before ordering and before installing our products.
INTERNATIONAL ORDERS
We ship worldwide, and International Customers are responsible for all import fees, duties, VAT, GST, TAX, handling fees, and all other import costs in their respective country.  The shipping fees RPM collects only cover shipping & handling.