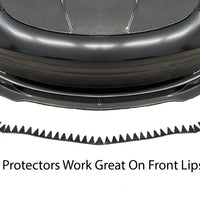 Model S3XY Scrape Protector Skid Plate Bumper Protection
List price:
$93.74
Sale

• Save
Installation difficulty: Easy 1/5
Description
ESTIMATED LEAD TIME: 2-4 weeks for new orders
We are an exclusive distributer for Scrape Protector.  For more information, you can visit scrapeprotector's website or click the button at the bottom of the page.

A scrape protector is a hard plastic front bumper skid plate.  It will prevent you from scratching the underside of your bumper on steep driveways, on parking blocks, and even speed bumps. The Scrape Protector's material will absorb the force and stop your front bumper or spoiler from scratching.
The Scrape Protector is made from an extremely durable polyurethane plastic that is easily installable and nearly invisible when viewed from the front of your car.
Our thin molded design separates us from the rest.  With the durable and thin design of Scrape Protector, extreme malleability is key.  These easy-to-install skid plates make protecting your investment simple.  Our products are made from extremely durable polyurethane that speaks for itself.  These scrape protectors seem to be near indestructible.
What Makes Scrape Protector's the Best:  3 Reasons
Thickness & Flexibility, Proprietary Compounding, and Superior Adhesion.
Thickness & Flexibility:  Our competitor's products are almost 4mm thick which make them more visible near bumper edges, while Scrape Protectors are less than 2mm think making Scrape Protectors less visible to detect from all angles.  The reduced thickness and the proprietary compounding make them more flexible to curve up to 30% greater insuring a better fit on all bumpers.
Compounding:  The urethane compound is formulated with a much higher tensile strength, along with lower compression set so it will dampen and absorb more without scaring its surface.
Bumper Adhesion:  With the 3M VHB Double sided tape combined with our adhesive promoter, a super strong adherence is guaranteed to insure a long life attached to your bumper.  Just clean, prep with the promoter and apply. Simple.  
Scrape Protectors are trusted by the most exotic vehicles to protect their bumpers.
The 8 Piece Kit will cover all painted areas under the Model 3 and Y Front Bumper. For the model S and X or, If you would like more coverage for your under-bumper area or would like to protect your plastic please refer to our larger Scrape Protector Packs.
The 12 Piece Kit will cover all painted sections for the Model 3 and Y and will provide more coverage for the under the bumper, plastic trim. If your car has a large painted underside please refer to our 16 piece kit. This will offer more savings and higher quantity.
This 16 Piece Kit will cover all Tesla's entire under the bumper. This means all paint and plastic under the trim will have protection from scrapes. This option is great and saves $10 if you are buying in higher quantity. 
Installation:
Installation is as simple as cleaning/priming the surface, peeling the backing tape and applying the Scrape Protectors.
INSTALLATION:
Warranty
All our products with a 5 Year warranty
Installation
Installation Video
Our installation videos provide the necessary information to correctly install our products. Therefore, we strongly recommend that you watch the installation video/s both before ordering and before installing our products.
INTERNATIONAL ORDERS
We ship worldwide, and International Customers are responsible for all import fees, duties, VAT, GST, TAX, handling fees, and all other import costs in their respective country.  The shipping fees RPM collects only cover shipping & handling.