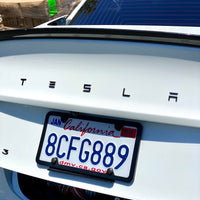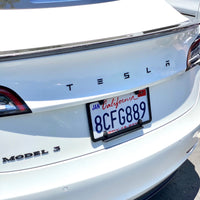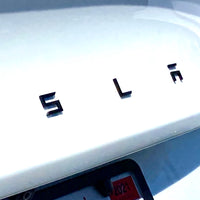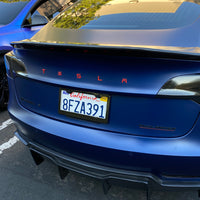 Model S3XY T-E-S-L-A Tailgate Emblems Version 2.0 - ABS Plastic
List price:
$30.00
Sale

• Save
Installation difficulty: Easy 1/5
Description
New Plastic Injection Molded T-E-S-L-A Emblem letters for the trunk and tailgates.  
Generation 2 - Super simple installation with foam framing, easy to line up, and easy to install perfectly every time.  Just press and stick !!
We have sold many of our vinyl letters since 2018, but not we raise up squared off version of the same letters.  These are configured on our transfer tape so its very easy to install.  They 5 letters are spread out evenly to fit perfect on your TESLA.  
Position these below your T logo or just remove your chrome T Logo with fishing tape and, install these TESLA plastic letters.  Our new version comes with a full foam backing so its very easy to install.  See Second Photo.  Just line up peel and stick. 
TESLA Model Installation Options:
Newest  2022 Model S & X owners remove their T logo or simply put these right on their rear tailgate applique, as the new versions of both do not include the molded TESLA protruding letters that no longer are located on the applique.
These 5 T-E-S-L-A letters emblems look great on the tailgate of Model 3's, and since the Model Y's T Logo for a cleaner look.
For the Model 3 & Y Trunk and lift gate we sell our very popular injection molded Model 3 & Y emblems, and our Vinyl Strip Applique', but since the preview of the new Roadster with vinyl TESLA letters, and the performance Model 3 that Franz is driving, we decided to offer this simple thin sleek 5 letter Vinyl Decal option.  You can choose our chrome vinyl or any other color as listed below.
You choose from Chrome Plated, Satin Black, Glossy Black, or RED 

DEMO & INSTALLATION:  New Foam Frame style installation video coming soon.
Compatibility
Fits the Model 3 and Model Y
Installation
Our installation videos provide the necessary information to correctly install our products. Therefore, we strongly recommend that you watch the installation video/s both before ordering and before installing our products.
INTERNATIONAL ORDERS
We ship worldwide, and International Customers are responsible for all import fees, duties, VAT, GST, TAX, handling fees, and all other import costs in their respective country.  The shipping fees RPM collects only cover shipping & handling.