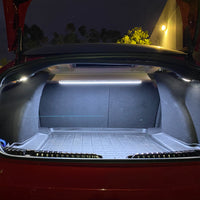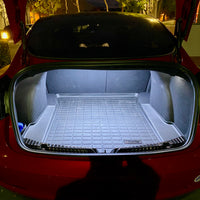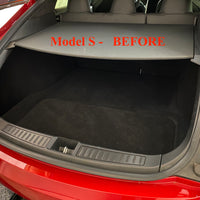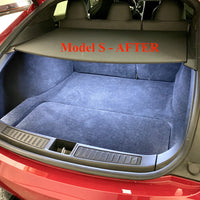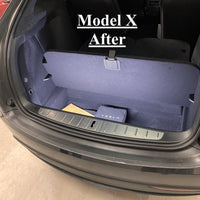 Model S3X Trunk LED Light Bar 24" long
List price:
$73.75
Sale

• Save
Installation difficulty: Easy 1/5
Description
Finally an amazing simple to install lighting upgrade for your TESLA Trunk.
This 24" long LED strip has 117 diodes that emit 1248 Lms at 12000K. This is a huge amount of cool LED light.  It simply connects right with your existing stock LED lights and adds this long beautiful super bright light to your trunk.  No tools required, it's simple, just plug and play.
Anyone can install this, as you just unplug your stock LED lights and plug this in. And now you have 3 LED lights to brighten your trunk as shown in our photos.  Even if you have upgraded to our dual trunk lights, this will help even more.
TESLA Model 3's hold on to the upper trunk cross beam with double sided tape, and model S & X use Velcro strips.  Each are assembled for each model.
No wiring is exposed and this is very easy and just plugs right in.  No wiring, no cutting, no warranty issues, just plug and play.
DEMO & INSTALLATION:
Compatibility
Not compatible with 2021+ Model S & X

If you have bought out Trunk & Frunk Noise Reduction liner, the Velcro doesn't stick over periods of time. We recommend cutting out a piece of the liner and using the Double sided adhesive. Another solution that we have found from customer feedback is that you can zip-tie the Light Bar to the Fabric piece. If you have any questions, feel free to reach out to us via live chat and a representative will be happy to assist you.
Shipping
Shipping outside the Contiguous USA and International is extra. Please email us with your address before ordering for the shipping cost.
Installation
Our installation videos provide the necessary information to correctly install our products. Therefore, we strongly recommend that you watch the installation video/s both before ordering and before installing our products.
INTERNATIONAL ORDERS
We ship worldwide, and International Customers are responsible for all import fees, duties, VAT, GST, TAX, handling fees, and all other import costs in their respective country.  The shipping fees RPM collects only cover shipping & handling.