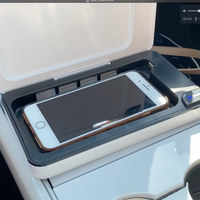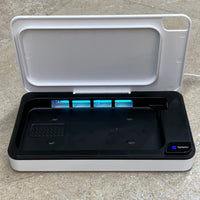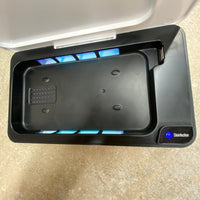 UV Sanitizing Smartphone Bath with Wireless Charging - $35 with 40% OFF
List price:
$58.34
Sale

• Save
Installation difficulty: Easy 1/5
Description
***Discontinued Item***
Please read our policy regarding Discontinued items before purchasing. You can find information regarding our discontinued items HERE.
-----------------
Gen. 5 we have increased the charging coil sizes to accommodate larger and smaller phones.  We removed the 2 upper upper holes from the right and left charging locations for a cleaner look.  
Improvements from Gen. 4
        Softer Silicone Rubber Anti Slip Top Layer
        3 Coil Zone Charging - Landscape Charging / Viewing
        Zone LED Charging Indicators         
        Power / Data Splicer Included
        USB-C for Model & Newer Model #'s
NO MORE WIRES:
Keep your smart phone charged with the RPM Gen. 5 Model 3 Wireless Cell Phone Charging pad only sold by RPM TESLA Aftermarket Accessories. Our newest version has the above listed 5 improvements and enough power to rapid charge two phones at once, or 1 horizontally.
Model Y's feature a wireless charging pad, but it does not have landscape viewing as ours does with the 3 Zone charging locations. Many Model Y customers have upgraded to this product for this reason. Model Y's use USB-C splitter for charging in your left side USB-C plug under the charging pad.
Just get in your Model 3 or Model Y, and drop down your Qi-enabled smartphone on our charging pad and you will charge quickly without any cables.  Our Tesla Model 3 Wireless Charging Pad charges at 7.5W when connected to the front USB ports. This equates to about 10% in 5 to 10 minutes. We also include a splitter for your USB Thumb Drive, see more below.
Thumb Drive - Sentry Mode Recording & Music Storage
We included a USB-A or a USB-C Power/Data splitting block so you can use your USB thumb drive with our charging pad. This allows you to charge 2 cell phones at full power while allowing Sentry Mode Recording to be stored on your thumb drive, and for music playback.  Please watch our installation video where we explain how to install this wireless charging pad and the Power Data Splitting Block.
Installation requires no tools and takes about 2 minutes. Please watch our installation video before purchasing this product. Also, measure the size of your phone to see if it will fit our Model 3 Charging Pad. See the dimensions in the Information tab above.
Warranty:  Others only give 30 days, but we give you a lifetime warranty on everything you buy from RPM TESLA. Customer Service is # 1. Wear and tear are not covered.
The specifications for the Model 3 Qi Wireless Charging Pad Gen 2:
Input:  DC 5V 2A
Output Charging Rate:  10% battery increase in 5-10 minutes depending on case thickness and phone location over Qi charging coil.
Power:  Each of the 3 charging coils is capable of 10W charging to accommodate mobile devices with "quick charge" capabilities (e.g., iPhone X at 7.5W)
Phone Compatibility:  Qi enabled smartphones will charge on our device: Apple iPhone: 8, 8 Plus, 10, 11, 12. Samsung Galaxy: Note 8, S8, S8+, S7, S7 Edge, Note 5, S6, S6 Edge.LG: V30, G6 (US version), Google Nexus: 4, 5, 6, 7 & BlackBerry: Priv.  
If your phone is not listed above, please check your phone's dimensions to be sure your phone and case can be use for wireless charging, their combined dimensions should not exceed 6.20 in. H x 3.25 in. W x 0.5 in. T (162 mm H x 82 mm W x 12.5 mm T).
INSTALLATION:
TESLA LOCATIONS:
Installation
Our installation videos provide the necessary information to correctly install our products. Therefore, we strongly recommend that you watch the installation video/s both before ordering and before installing our products.
INTERNATIONAL ORDERS
We ship worldwide, and International Customers are responsible for all import fees, duties, VAT, GST, TAX, handling fees, and all other import costs in their respective country.  The shipping fees RPM collects only cover shipping & handling.